(16 votes, average: 3.13 out of 5)

Every day now there's another iPhone 7 concept, some making you yawn, others making you tingle with excitement. Jermaine Smit managed to create a pretty interesting iPhone 7 render, the one pictured below and also shown in that video at the end of the article.
It stands out particularly through its 12 megapixel camera, fast charging and its Home button. This Home button can be used to navigate to the left or right, because the fingerprint scanner is able to notice when you're sliding and what way you're sliding. This concept is dubbed iSwipe, by the designer. The facade is still pretty much the same as we know it, but now there's a rubberish texture on the sides, for improved grip.
Wireless charging is also here and this model is a bit thicker than iPhone 6. Fast charging is also here, as well as a 4.7 inch screen, 2 GB of RAM and a 4 megapixel front camera. The wireless charging is called iCharge and judging by the video you can use it to charge device between themselves. I find it interesting that the back of the handset is glossy and maybe features a bit of glass in there.
What do you think? Would this iPhone 7 make it?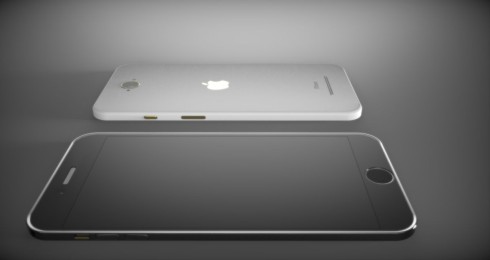 [via Jermaine Smit]