(19 votes, average: 3.58 out of 5)

After a big time leak from a few weeks ago it's clear that there will be an Amazon Phone this year, one that comes with a ton of cameras and a 3D UI. The folks of Techradar have taken all those ideas and leaks and created the concept Amazon Kindle phone below.
The smartphone is supposed to be the ultimate home shopping device. This unofficial concept features 5 front facing cameras that track eye movements for an unique user interface experience. All the UI elements seem to move in 3D form as you glance at the screen. The cool thing is that while you're reading the cameras will detect if you reached the end of the page and will turn the page.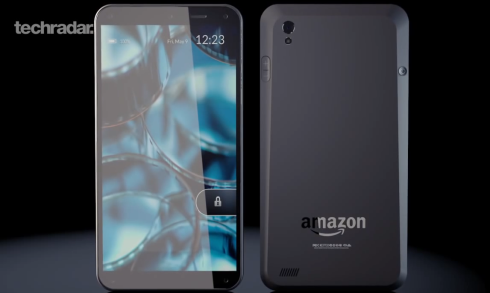 Advanced image recognition will check out the objects around you and display Amazon prices. The format is pretty basic, with a rectangular facade and slightly sloped edges, with the volume buttons being almost at the back. Specs of the Amazon Phone include a 2.2 GHz Qualcomm Snapdragon 805 CPU, 2 GB of RAM, 16 GB of storage, 64 GB of Amazon cloud storage and a 5 inch Full HD display.
There's 4G LTE and a Mayday button feature. Price this at $300 and you've got a hit Amazon!
[via Techradar]