(8 votes, average: 3.38 out of 5)

Designers Michael Ward and Yoann Lechopier have figured out that the handsets launched nowadays are too slim for their own good, at least as far as acoustics go. That's why they need a kickass speaker system, like the one they created.
Enter the Impulse Speaker Case, that offers excellent bass and a badass design. The idea is all about modularity and for now the Impulse is made for the iPhone. The product is ready to take off via crowdfunding and we also learned it uses 4 transducers and a sound channel give you a serious number of decibels and great bass. High def music is supported, as well as conference calling and games are enhanced by the case.
The designers included a coaxial speaker here, coupled with a Bass-Reflex system for better performance. There's also a removable grid for improved customization and a plug for the microUSB and audio jack. The system is so hardcore, that it actually requires a special little vent for the bass reflex, an area where there's also a power LED. The bass frequencies will go inward and resonate into chambers.
In case you want to pledge money, the lowest you can go to actually get a unit is $80, for the Early Bird Standard Impulse. There are also Special Editions and Family deals, so be sure to check out Indiegogo.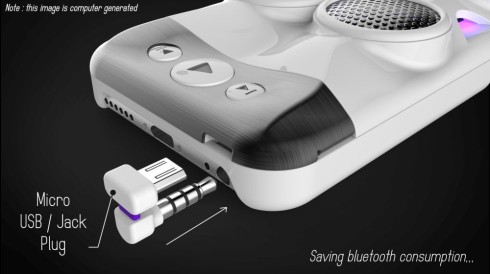 [via Indiegogo]