(9 votes, average: 4.11 out of 5)

Today we're dealing with a concept called Project Aria, that's so much more than Project Ara. It still features a modular aspect, but it also comes with holographic projection and other futuristic features.
The renders were created by 91mobiles.com and the device is supposed to be "eternally future-proof". Project Aria comes with Android, a fully transparent screen, holographic projection, via 4 small projectors placed in the corners of the handset and modular interchangeable parts. There's also a Lytro camera, that allows you to capture complete depths of field in images, so you can capture now and refocus later.
Specs are also crazy good, including a 5 inch UHD display with POLED panel, as well as an octa core 20 nm chip clocked at 3 GHz, a 64 bit unit by the way. There's 4 GB of RAM included, up to 128 GB of storage, a 13 MP Lytro camera with OIS and 4K Video capture, plus 4G LTE and Bluetooth 4.1. An interesting feature, also detailed in the video below is the carbon-based super capacitor that offers 2 days of battery life with a 30 minute charge.
The designers also promise to integrate a vibration transducer speaker system, that turns any flat surface into a large speaker, enhancing the acoustics. The actual design involves a slab of glass and two main metal portions, with modular parts inserted like SD cards at the top and bottom of the glass pieces.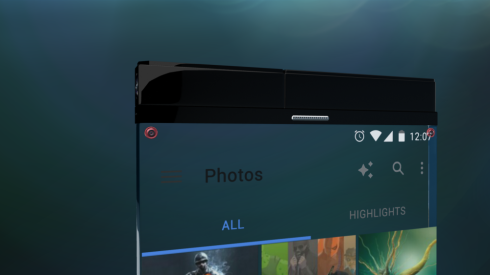 [via 91mobiles.com]