(13 votes, average: 4.08 out of 5)

Designer Lucas Silva has imagined a brand new concept phone, the Surface Phone, 2016 edition. This new model is a phablet with an elegant metal design, that relies on a very interesting dock system, forming a V shape mechanism.
The handset comes with a 5.5 inch AMOLED screen and 4 GB of RAM, as well as an Intel Atom x3 SoFia chipset. Surface Phone 2016 is available with 16, 32 or 64 GB of storage, as well as a 128 GB model. At the back there's a 21 megapixel camera with Carl Zeiss and Pureview technology, plus dual LED flash, while upfront there's an 8 megapixel shooter with wide angle lens.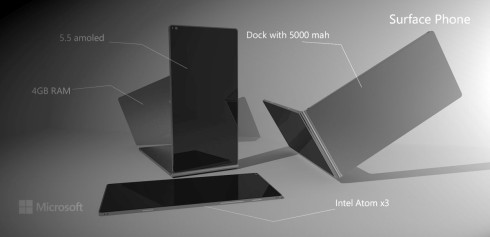 The designer also envisioned a Surface Pen, USB Type C port and a dock with a 5000 mAh battery and Dolby Digital surround sound system. Unlike most Surface Phone concepts, this model doesn't use design cues from the Microsoft Surface Tablets or simply make it a smaller version. What do you think of it?
[via Lucas Silva]