Fresh after seeing the a Galaxy Note 22 Ultra concept just the other day, today we get treated to a Galaxy Note 21 Ultra render. It comes from Waqar Khan this time and receives a secondary screen at the back. We also have a detailed video of it below.
Secondary screens haven't received much traction lately, so aside from the Xiaomi Mi 11 Ultra, no other device has tried that out. What's interesting here is that the main camera section and second screen get a sort of dedicated module at the back of the phone, one that appears separate from the rest of the back, feeling a bit like a Google Pixel phone.
The Samsung Galaxy Note 21 Ultra also has a very curved screen on the side, so curved that it actually reminds me of the Edge models from Samsung. It also adopts the violet hue beloved on the Galaxy S21 and the wraparound camera is now wrapped around both corners. The problem I have here is that the device would end up very top heavy, much like the Xiaomi Mi 11 Ultra, making it prone to drops on the ground and a not so comfortable grip.
The stylus is still here, in a dedicate slot and the periscope camera may just jump to 10X optical zoom this time around. A bump in ultrawide camera with freeform lens like the OnePlus 9 one would also be welcome. We also expect an under display camera, but that didn't appear here. Actually, Samsung could ditch the selfie camera alltogether, having the back screen to aid us with main camera selfies.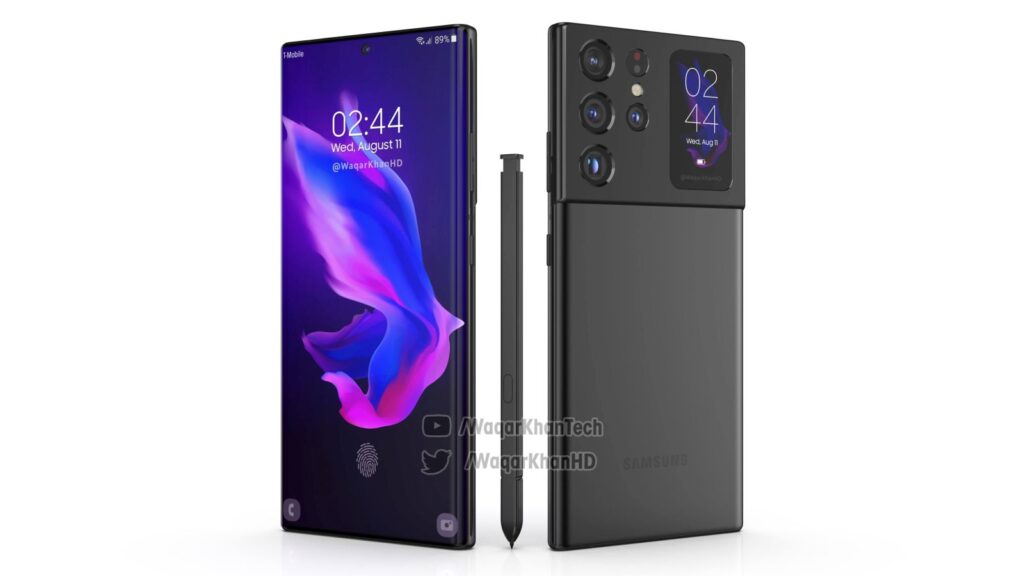 via Waqar Khan