(10 votes, average: 3.30 out of 5)

Samsung Galaxy Note 5 has been rendered again, in spite of being more than half a year away from its launch. It has been created by Maryum Ayub in Illustrator and it's an all metal smartphone with a curved body.
This is a 5.9 inch 4K Super AMOLED phablet with Gorilla Glass 5 protection and it comes with the yet unnamed Android 6.0, according to the designer. Inside we find a Samsung Exynos 3.2 GHz octa core processor, 32 GB or 64 GB of storage and 4 GB of RAM. There's also a 19 megapixel back camera, with optical image stabilization and a secondary 4.7 MP front camera.
The phablet packs a Li-Ion 3700 mAh battery, that offers up to 30 hours of talk time and 40 days of standby. Samsung Galaxy Note 5 supports LTE connectivity, comes with GPS and the designer even mentions that the product is coming at IFA 2015. Even the price tag is mentioned here: $941, exaggeratedly steep, if you ask me. The S Pen comes with a Hover Over technology and the design of the device is rather wide, plus it comes with a bezel free display.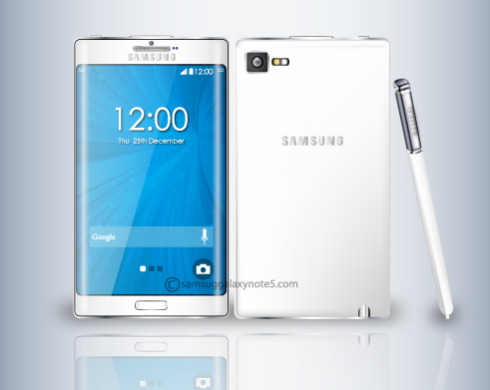 [via samsunggalaxynote5.com]