(2 votes, average: 4.00 out of 5)

As the news sources contradict themselves about the Galaxy Fold 2 coming or not on August 5th, we're starting to see the next clamshell foldable from Samsung pop up in the news a lot. Lately, foldables have appeared more in clamshell format, like the Huawei Mate V and now this Samsung Galaxy Z Flip 2.
The creation of Waqar Khan, this set of 3D renders show us a device that keeps much of the first gen format, but makes some changes on the external side of things. First of all, the external dual camera with horizontal orientation is replaced by a triple camera with vertical orientation and the pill shaped external screen has been expanded. It's a bit wider now and should be able to show more text for notifications, weather and other important stuff.
At its core, the phone keeps the hinge of the predecessor, the UTG glass protection, probably also the 6.7 inch diagonal. There are new colors shown here in these renders by Waqar Khan, including purple, black, gold and white. I feel that the bezels and edges of the firs gen Z Flip were too big and this should have been fixed by the second gen model. I also think we need a sturdier hinge and flexible/foldable mechanism, although I have yet to see a large number of users complaining of any sort of damage for the first gen foldable.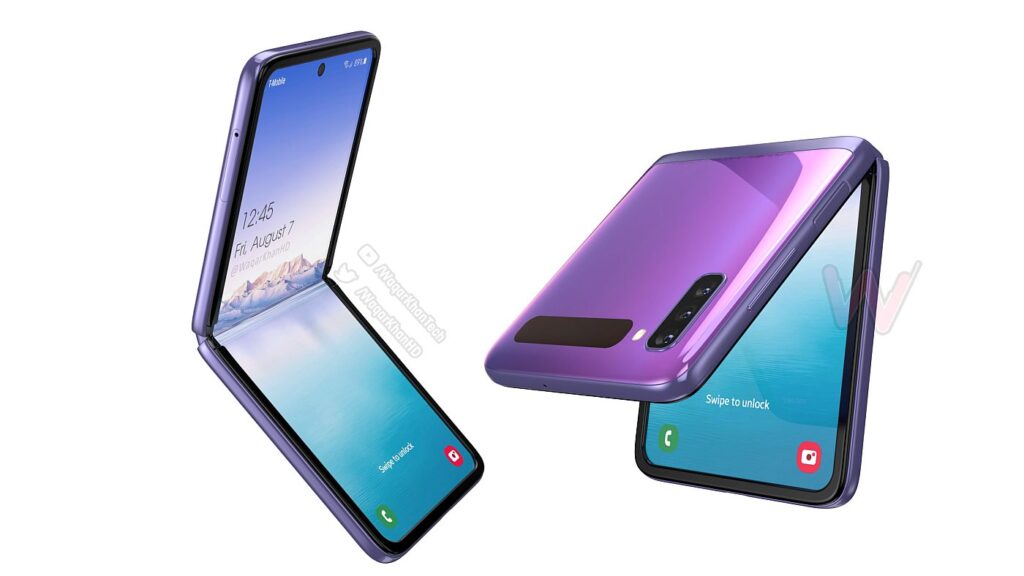 I imagine that the specs are closer to the Galaxy S20, starting from the Snapdragon 865 CPU, to the triple back camera with a 12 MP main sensor, 64 MP telephoto shooter and probably a 12, 16 or 20 MP ultrawide camera. Upfront there's a punch hole for the selfie camera, which by the way was awful on the Z Flip and needs fixing.
Overall changes feel minor in this concept/render and this is more of a Galaxy Z Flip S.
via Waqar Khan