(9 votes, average: 4.33 out of 5)

CEATEC 2010 is here and with it tons of prototypes you might be interested in. We'll focus on cellphones and maybe tablets, since we're into portable devices, after all… The first concept that caught our eye was a Fujitsu dual touchscreen handset, shown in the following images.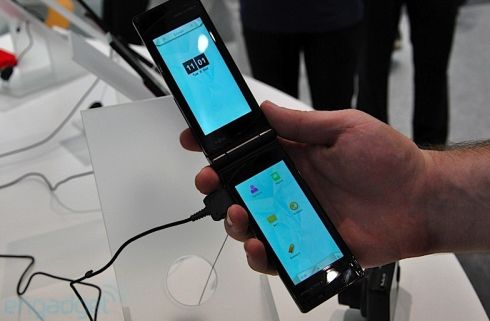 Developed in partnership with UI creators TAT, this unit is apparently ready for production, unless we're mistaking, so it should take off in a year or two. The software doesn't quite look ready, but the hardware does and we have to admit that the two 960 x 480 pixel displays look hot next to each other.
Only the browser and email list scrolling were shown in action, on both displays. Also, there was an interesting feature we must mention: users are able to share photos from the bottom display to the list of contacts on the top display. Through rotating mechanisms, as you might have figured out, both displays are able to switch from portrait to landscape mode. How cool is that?
[via Engadget]