(1 votes, average: 5.00 out of 5)

Apple did hold an education event about a month ago and speculations ran crazy before it. All we got is a $299 iPad for students with not half bad specs, but Martin Hajek actually had a different idea for the product. He came up with the Apple ePad, which actually makes more sense for students.
We see it bundled with other top notch Martin Hajek concepts, like the iPhone SE2 and RED iPhone X. The Apple ePad comes with a bundled stylus, two green hues, black and white version. The styli also get the same color as the tablet and judging by what we see here, this seems more like a 7.9 incher than a 9.7 incher. It actually has the typical iPad Mini format and if I were to guess, the "e" particle comes from a color E-Ink screen.
That type of development may come slower, as a color E-Ink screen is very pricey, but also saves a ton of battery. Judging by what we see here, this is certainly no E-Ink, but more of an OLED. In the end I think the "ePad" name comes from "Education", not the other tech above. I find it odd that the device even gets a camera flash, even though you're perceived as a douchebag if you take photos with a tablet and double douchebag if you do that with a stylus…
Just call it iPad Mini X!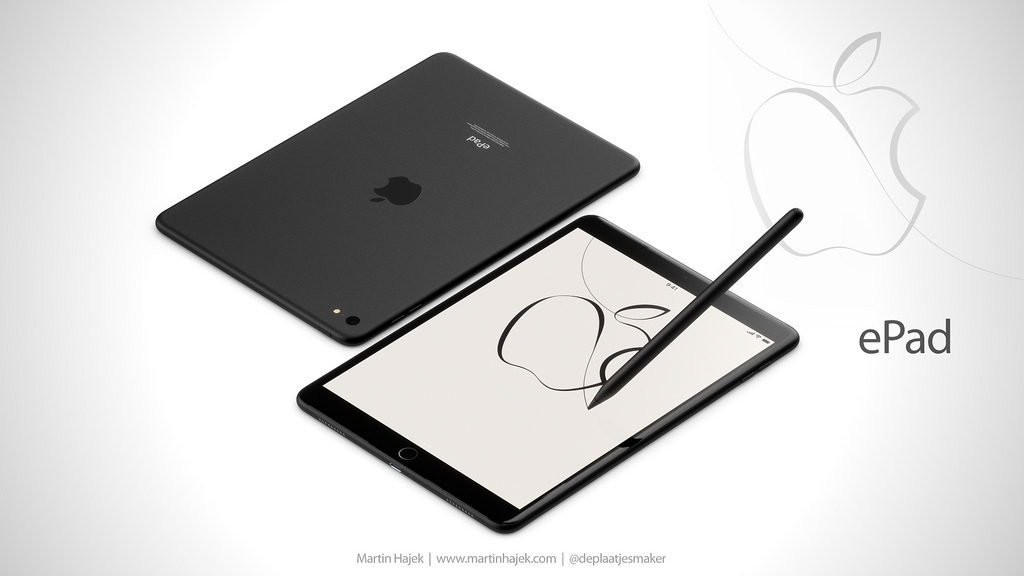 [via Martin Hajek]