(13 votes, average: 3.85 out of 5)

Abhi Muktheeswarar has created the Bella Phone, a concept handset that's designed with beauty in mind. The designer claims that he wanted something different, not the usual ultraslim body and a frame around the edges, or a simple and boring unibody design.
The Bella is not supposed to follow a trend, since it stands on its own. The handset seems to be a two part affair, with a secondary back shell that overlaps the top area of the device. The UI of the phone reminds me of a more minimalistic MIUI and I find it very interesting that there's a volume rocker on the side, if that's what it is. From the looks of it, the Bella Phone is made of polycarbonate, but it also has some metal parts.
At the back there's the main camera with dual LED flash and the speakers are smartly integrate at the top corners, flanking the audio jack and two other areas. They're probably sensors of sorts, including infrared. Also, I noticed that the phone features a very narrow bezel and a sort of chin that reminds me of older HTC units.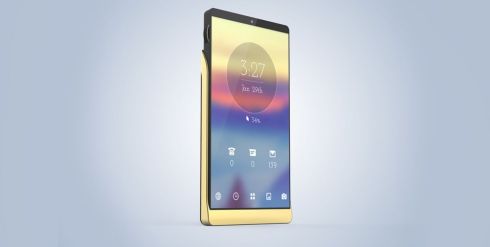 [via llgd.net]