(14 votes, average: 3.79 out of 5)

This week started with a brilliant gaming phone concept from Pierre Cerveau, aptly named Nintendo Smart Boy. The device is pictured below and looks quite swell. It manages to combine the classic GameBoy styling with the looks of a modern smartphone.
The handset is obviously much slimmer than the Gameboys and it uses a special cartridge system to attach components, thus becoming modular. An interesting idea involves having the microUSB port and audio jack on the side, used to plug in something called the Nintendo Game Bat. It feels like a Wiimote and it has classic Nintendo controls, like the D Pad, an analog stick and 4 action buttons.
The cartridges at the back serve to replace the battery, add extra memory or add a 3D camera in the mix, perhaps with gaming functionality. Nintendo Smart Boy runs Android, but it also has a special usage mode, a "Power Saving 8 Bit Mode", that looks funky and at the same time conserves juice. I'd buy this the second it would be released… Great work Pierre!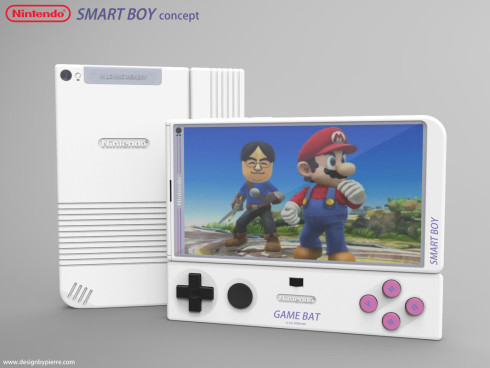 [via Pierre Cerveau]