(9 votes, average: 3.33 out of 5)

While we usually deal with prototypes and concepts, every once in a while a cancelled device design pops up in here. One such design is the Microsoft Moonraker, that was supposed to be a stylish Nokia smartwatch, but never made it.
Instead it was replaced by the Band, that in turn will soon get a replacement, the Band 2. The Microsoft Moonraker, as this device is codenamed was canceled in 2014, when Nokia was taken over. This was more than a concept and Nokia wanted to launch it alongside the Lumia 930 at MWC 2014. You're probably wondering how these images came up. Well, one of the Microsoft designers published them on his Tumblr account.
Nokia Moonraker featured functionality like email, messages, calendar, could take calls and had an UI very similar to Windows Phone. The smartwatch seemed to be colourful, it also seemed to feature a Home button and the usual media controls and watch faces. The colourful belt that seemed made of plastic placed in a lower range price segment than the ZenWatch for example.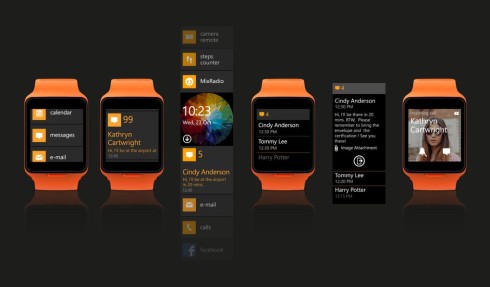 [via The Verge]