(74 votes, average: 4.32 out of 5)

The folks of Mynokiablog are back with a new Windows 8 Nokia tablet concept, that looks very much like the Nokia Tab we saw a while ago. This model is called the Nokia Lumia Expresso, so it's guess it's related to that "coffee tablet" they've shown us. This Windows 8 device features a 10.1 inch ClearBlack AMOLED display with a 1280 x 800 pixel resolution.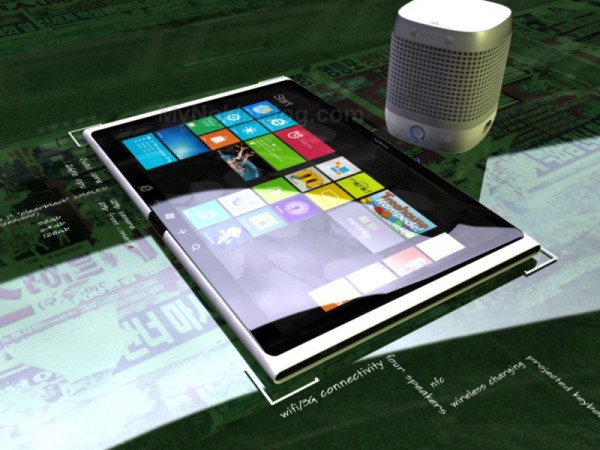 There's also a 1.2GHz quad core processor on board, 2GB of RAM, 32/64/128GB storage, a 12 megapixel camera and a 2MP front facing camera. WiFi, 3G, quad speakers and NFC are also on board and the Nokia Lumia Expresso is capable of wireless charging among others. Its most surprising feature is that it incorporates a projector, able to project a whole keyboard in front of it. The design is very N9-like and also looks a bit like the exterior part of the display on the Booklet 3G.
I can't understand why designer Tris Clark decided to include the Windows, Back and Search buttons on the lower part of the display, since those can be display in the Charm area in Windows 8. There's also a Play 360 speaker in the mix, paired to the Nokia concept tablet via NFC. Those quad speakers also sound like a good idea, so a great multimedia experience is ensured.
[via Tablet News and Mynokiablog]