(110 votes, average: 3.90 out of 5)

Sent to us by Ashraf Amer, this brand new Nokia concept is a dual boot machine with both Android 4.4 KitKat and Windows Phone 8.1. The device is dubbed Nokia Powerranger and it comes with a 5.1 inch LCD display with a 1440 x 2560 pixel resolution.
The design is sleek and slim and adheres to the Fabula format, but the front side looks much more modern. The bezels are kept to a minimum and the curve of the corners is very small. Nokia Powerranger relies on a Qualcomm Snapdragon 805 processor, clocked at 2.5 GHz and uses Adreno 420 graphics for great looking games. It has 64 GB of internal storage, 4 GB of RAM and up to 512 GB of total storage.
At the back of this Nokia QHD phone there's a 24 megapixel Pureview camera with dual LED flash and 4K video recording, plus high image stabilization and Carl Zeiss optics. Upfront we've got a 5 MP camera also with a dual LED flash, which is a bit of a premiere. There are two massive stereo speakers in the mix and this model even does 5G connectivity. It's a very thin smartphone made of polycarbonate and it allows you to switch between Windows Phone 8.1 and KitKat in just 3 seconds.
Would a 5G dual boot Nokia work?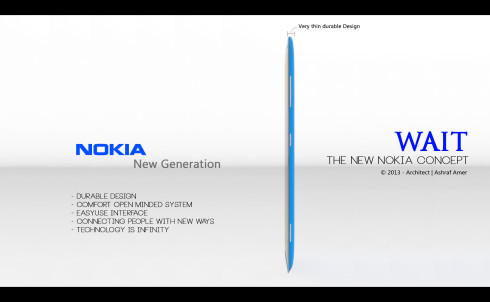 [Thanks Ashraf Amer]