(25 votes, average: 3.20 out of 5)

How about a texting phone that's actually comfortable for PC users? Kim Min Seok came up with the Samsung Cave concept that's pictured below. This device is designed for people who love texting and it incorporates the keyboard in a pretty original way.
The keypad is inclined at a 30 degree angle, while the entire curved shape of the handset surely helps with the typing experience and with the grip of the unit. You can leave those boring slideout designs for a while and focus on texting on this baby. The downside to this design is how bulky the handset is…
Unless there's a way to retract that keyboard, like some sort of accordion mechanism, I'll consider this smartphone to be huge, especially if the screen is bigger than 3.3 inches. Multitasking and Android are also probably supported. It's interesting that this is a "with Google" phone, so it may be considered a Nexus concept.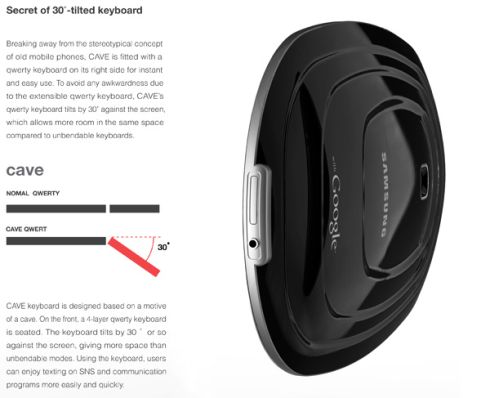 [Ubergizmo via Yanko Design]