Antonio De Rosa is back with one of its cool concepts, this time the Apple iPhone M1. We've seen the Apple M1 CPU switching from MacBooks to iPads already and we may also see it appear on the iPhone soon. But the core of this concept is not just the new CPU, but also the unusual design.
Also called a "hypothetical iPhone 13", the device offers you a camera that's placed higher than usual, actually so high, that it highlights a raised top half of the device. The aim is "being different", getting rid of the notch and also apparently having quite a few speaker holes, perhaps double the amount than before. At least the notch is gone, being replaced by a raised forehead upfront, with its back side hosting part of the camera. I see we also get a fingerprint scanner embedded in the screen and also very narrow bezels.
The flat edges are here to stay. What bugs me is that the Lightning port is still here, in spite of all those rumors saying it was about to be canned. Also, what's with the huge amount of holes? There are two sets at the top and two at the bottom. Could this be the first quad speaker phone? An interesting idea we see here is that the two iPhones with the raised foreheads may connect together in the top area. I'm pretty sure that Apple will never launch such a device, since its risk taking days are gone.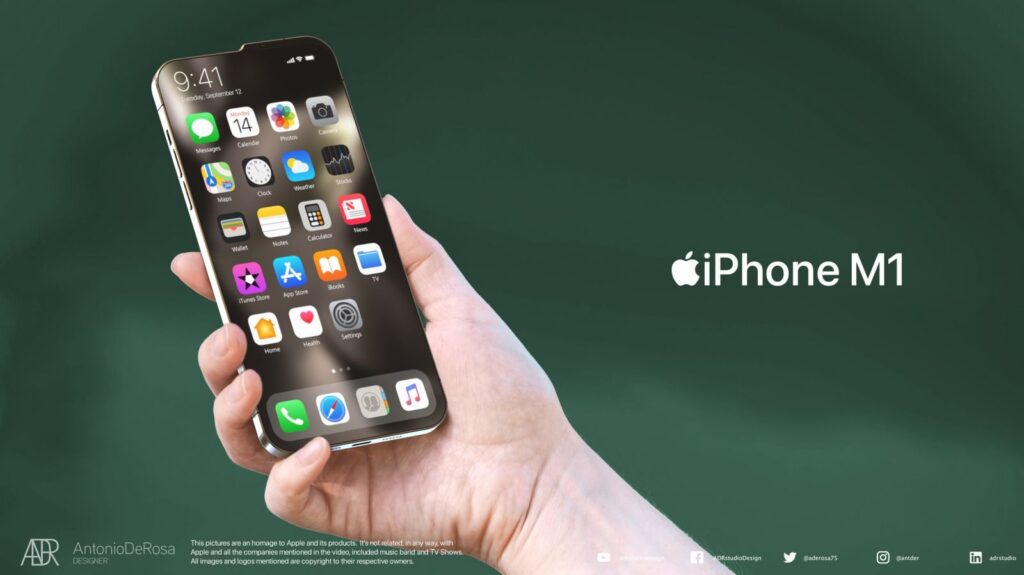 Their strategy now is serving us innovation in small portions, every 2 or 3 years. This year the smaller notch and lack of Lightning port is the max we're getting. 2022 may finally bring the BIG upgrade.
via Antonio de Rosa