(18 votes, average: 4.61 out of 5)

Who is the leak master? @Evleaks, that's who and he's got dibbs on all the leaks related to the BlackBerry Venice. The handset is widely known as the first Android-based BlackBerry unit, that should be coming this fall.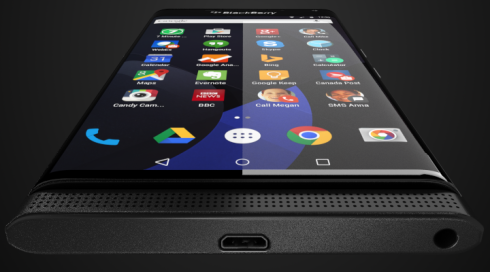 It was supposed to be a slider, but nothing is clear right now, especially from the image above. What's clear is that we'll be getting a very generous speaker at the bottom and that portion may or may not go on into a QWERTY sliding keyboard. The road from BB OS to Android was clear, once BlackBerry started allowing the sideloading of Android apps via APKs and also offered support for the Amazon App Store.
BlackBerry Venice was flashed a bit at MWC 2015, as a slider, but it wasn't turned on. From what I can see, the phone is made of a solid plastic material, not metal. The display has curved edges, that are very narrow, making the handset more elegant and sleek. Will this be a hit this fall?
[via @evleaks]