(3 votes, average: 3.67 out of 5)

It's been a while since we covered some of the Letsgodigital.org renders, but here we are. They usually deliver quality stuff, that's why we like to cover them. The latest piece of work involves both a patent for a Motorola foldable phone and a set of renders.
Everybody and their mother is making a foldable phone these days and boosted by Lenovo, Motorola is also throwing its hat in the ring. As a tablet, the device looks small, maybe a 7 incher at best. It's got large bezels and seems pretty thick. At least the portion between screens can't be seen and it's all seamless. As a phone it's a a bit more stylish, on account of the curved side on the left.
It's an elongated device, so much so it brings forth memories about the Xperia XZ4 and its crazy 21:9 aspect ratio. This narrow Motorola Foldable Phone supposedly lets you swipe its back side in a vertical fashion in order to scroll through its Internet pages and app lists. The renders show the device in phone, tablet and a sort of tent form.
That one seems to involve a certain Nighstand and Alarm ringer feature. It could also be used for video watching. I'm curious about the hinge area, but since that's not shown here, we can only speculate it draws ideas from the Lenovo foldables and maybe the Yoga Book. I've seen slimmer and thinner packages of foldables to be honest.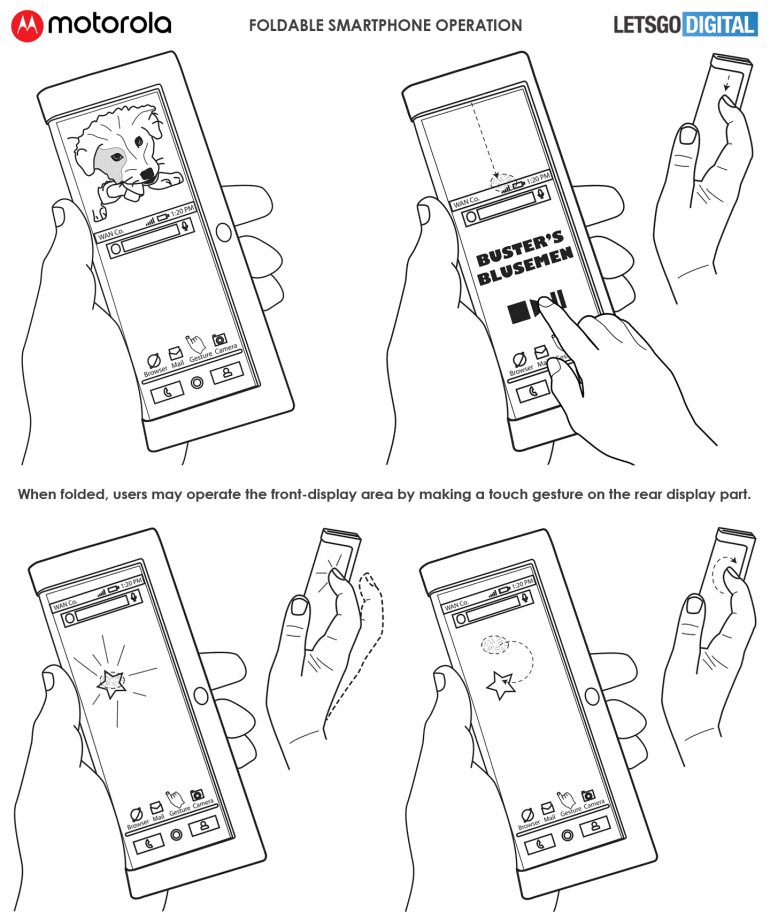 [via nl.letsgodigital.org]