(18 votes, average: 2.56 out of 5)

We've received yet another Galaxy S6 render, this time one that may actually be a future Galaxy Beam, rather than the flagship series device. This model comes from galaxys6neo.com and it features a projector upfront.
As an OS we have either Android 4.5 Milkshake or Tizen OS and the CPU inside this phone is the Qualcomm Snapdragon 800. Apparently, in spite of the name this is a 16 core version of the CPU, accompanied by 4 GB of RAM and a 5.2 inch ultra high definition display. There's a 20 megapixel primary camera and a 5 megapixel front cam, both sounding pretty realistic. Internally there's 64 GB of storage and a microSD card slot, plus a 3500 to 4000 mAh battery.
This device also has a flexible display and a dust and waterproof case. I don't know what the deal is with the second image, but it seems to show a totally edge to edge Samsung concept phone with a pretty old UI, maybe even pre S5. If you ask me, Samsung would better work on the software and leave hardware alone for now. Change that UI!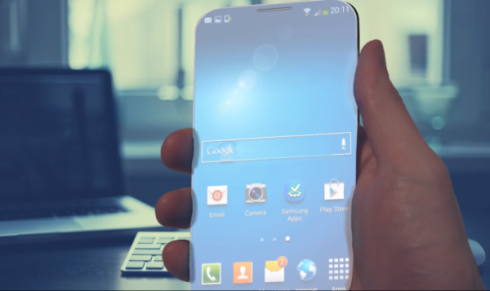 [via galaxys6neo.com]