(6 votes, average: 4.83 out of 5)

After so many tiny concept phones, one must up the stakes a notch and take a plunge into the UMPC world. Leave all Apple and Intel concepts behind and take a look at Mr. Felix Schmidberger's design below, a beautiful UMPC designed for businessmen in their 30s with families and a passion for home cinema systems.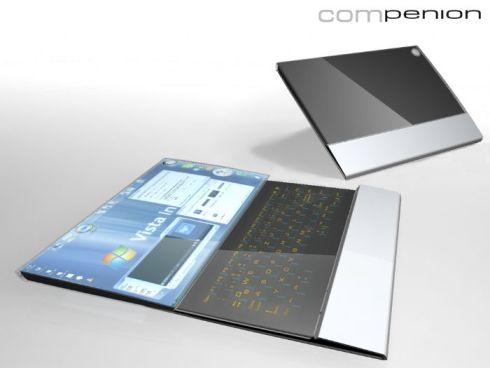 The device bears the name of "Compenion" and is accompanied by context-oriented docking stations. For example, you'll use the UMPC with a home entertainment station for your living room, as it comes with an embedded laser projector and the device's stylus can be used as a remote. This pen is not a regular one, but rather a "senstylus" with 2 action buttons up front and a thumb sensor field at the back.
You can even use this accessory as a remote by turning it around or write with the "senstylus" like with the average pen directly on the OLED touchscreen. The display above is a sliding one, which hides another OLED touchscreen beneath, showing the virtual QWERTY keyboard. Will we see this perfect UMPC hitting the market before 2015?
Hopefully, not with Vista…
[via Coroflot]