(24 votes, average: 2.67 out of 5)

Oh boy, did we miss those absurd concepts like the hologram phones or devices made of nano particles… Here's one for you today, a hologram iPhone courtesy of Set Solution from Italy. They envisioned an iPhone concept that's able to project on its sides images from the screen using holograms.
You can also expand the on screen UI with those sides and project stuff upwards from the screen. This triggers some gaming opportunities, like the one shown in the video below. Imagine planes lifting up from the screen or Angry Birds actually flying out of the display. Also, if this is a 4.7 inch iPhone expanding its UI with the side holograms turns it into sort of an iPad Mini, right?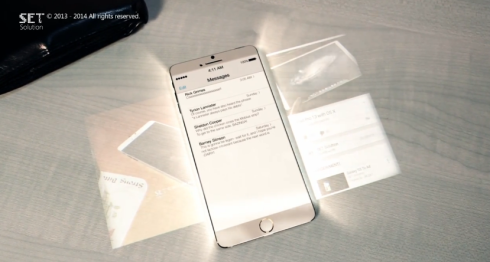 I can't even begin to imagine how much battery this system would use, but I have to say that I'm digging the iPhone design here, and the way the glass and metal are combined on the sides. The projectors of holograms are also very discrete and by the way you can actually interact with those images… Crazy, right?
[youtube:https://www.youtube.com/watch?v=S6GR6EmYEZc]
[Via Set Solution]