(15 votes, average: 3.73 out of 5)

For Martin Hajek it's already September 9th, the date when the iPhone 6 is rumored to be launched. After checking out his beautiful render of the iPhone 6 packaging and box, it's time to imagine the device in the Apple Store, bundled with iBeats headphones.
The iBeats headphones are basically the Beats ones with the Apple logo on them and some very nice looking side controls. Meanwhile, the 4.7 inch iPhone is shown on a special pedestal, that's sloped and made transparent and bright. It sits with an iPad at the base, showing details about the device and about the iOS 8 features. We are very curious to see what will happen to the EarPods, now that the Beats experience is part of Apple.
Anyway, the iPhone 6 has already invaded media a lot, so it doesn't surprise anyone anymore. It's supposed to move the On/Off button to the side, have more rounded edges, a bigger screen, elongated volume buttons and possibly a plastic area at the top and bottom of the back. I have a challenge for iPhone 6 makers: can we see one with iOS 8 fired up on the screen?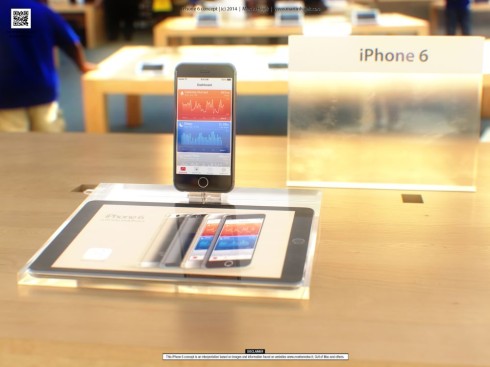 [via Martin Hajek]