(7 votes, average: 2.86 out of 5)

I'm pretty shocked to see that no Asian company has copied the Galaxy S6 Edge design directly, but only decided to go with subtly curved screen edges. Well, today we come across the Edgephone concept, that's not afraid to take a page from Samsung's book.
Created by Jonas Kvale, this concept even has specs associated to it. It seems to adopt a metal body, with a lower side looking like a Samsung or Apple modern phone, but apparently including dual speakers this time. The handset brings a 5.2 inch Full HD screen with dual curved edges. Somehow the back is also sloped to the sides, which would make the profile of the phone strange.
Inside there's 2 GB of RAM and 2200 mAh battery, feeling a bit modest for a modern smartphone. 64 GB of storage and a MediaTek MT6589 1.2 GHz quad core CPU are also here, plus a 13 megapixel back camera and 5 MP selfie shooter. The UI is stock Lollipop and those sloped edges remind me of the older iPads. The speakers are actually pretty cool and the central port is most likely an USB Type C.
Many people would rush to call this is a Galaxy S6 Edge copycat, so that's its main problem…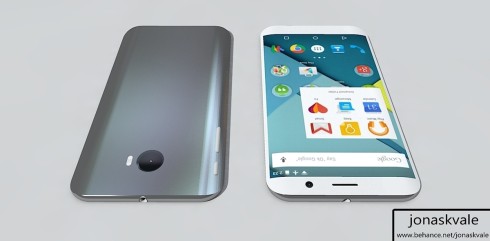 [via Behance]