(14 votes, average: 3.71 out of 5)

A few years ago we saw an interesting smart bracelet, before the smartwatch craze started and it was made by Mithun Darji. He revisited the idea recently and came up with the upgraded concept shown below. The overall design is the same, but everything has been simplified.
The design has been made more minimalistic, the Holla is now smaller and it got rid of all those buttons we didn't exactly like. I'd still like to see the big part of this gadget retracting into the smaller part with the earpiece on top, but not just yet. Overall, this looks like an odd MP3 player, or something that the actors in Star Trek would wear. The designer also shows microUSB charging, Bluetooth headset interaction and the earpiece integrated into the watch.
This model has a 2.2 inch touch display and there's an integrated earpiece for taking calls and streaming music. There's NFC, Bluetooth and WiFi for connectivity purposes and the Holla hands free earpiece charges via pogo pins, so there's no need for an extra charge unit.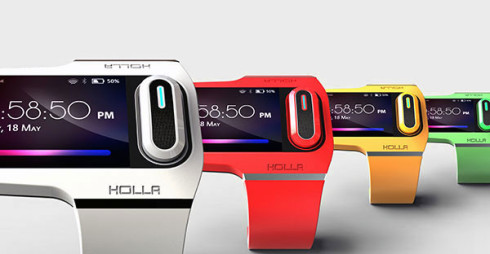 [via Yanko Design]