(5 votes, average: 3.60 out of 5)

As you know, HTC started teasing a new product with the #powerof10 hashtag, possibly hinting at the launch of the HTC One M10 flagship. In the meantime new live photos of the device showed up and Techconfigurations.com decided to turn all leaks and teasers into the 3D render below.
It seems the device will have flat sides, unlike the curved ones of the HTC One A9. A metallic unibody chassis with chamfered edges will be included and we'll get a front Home button with fingerprint scanner. I won't insist on the specs, but I noticed a new golden rim here, golden physical buttons and a pretty massive frame.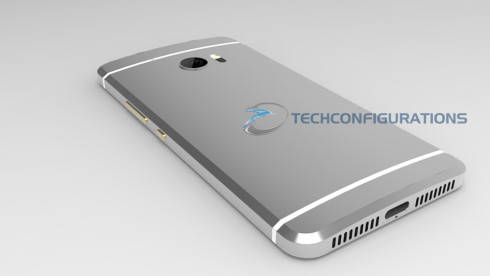 An USB Type C Port is included and the antenna cutouts are still present. Considering rumors that Apple is about to give those up, HTC may pre-empt this by doing it first. The technology exists, we're sure and you can include the cutouts into the corners, like the Nexus 6P. To me the front of the HTC One M10 shown here is totally similar to the one of a Galaxy A model.
[via Techconfigurations.com]