Huawei P50 Pro has been leaking a lot recently, on account of the fact that Huawei has been getting permission to use Qualcomm CPUs. Well, 4G ones for starters, but in the future they may adopt higher end ones and solve their component problems. As you know already, Huawei is banned from using US software and hardware on its devices. The next big flagship is the Huawei P50 Pro and we see it rendered below.
These are unofficial renders, created based on images from a patent that was registered by Huawei. To be honest, I feel like I've seen that camera design before, even though its lack of symmetry bothers me. The facade is identical with the Huawei P40 Pro one, give or take some slimmer bezels. I see there's no longer a chin here and the pill shaped dual front camera cutout is now slightly smaller. It may still be bothersome in games and in the video player.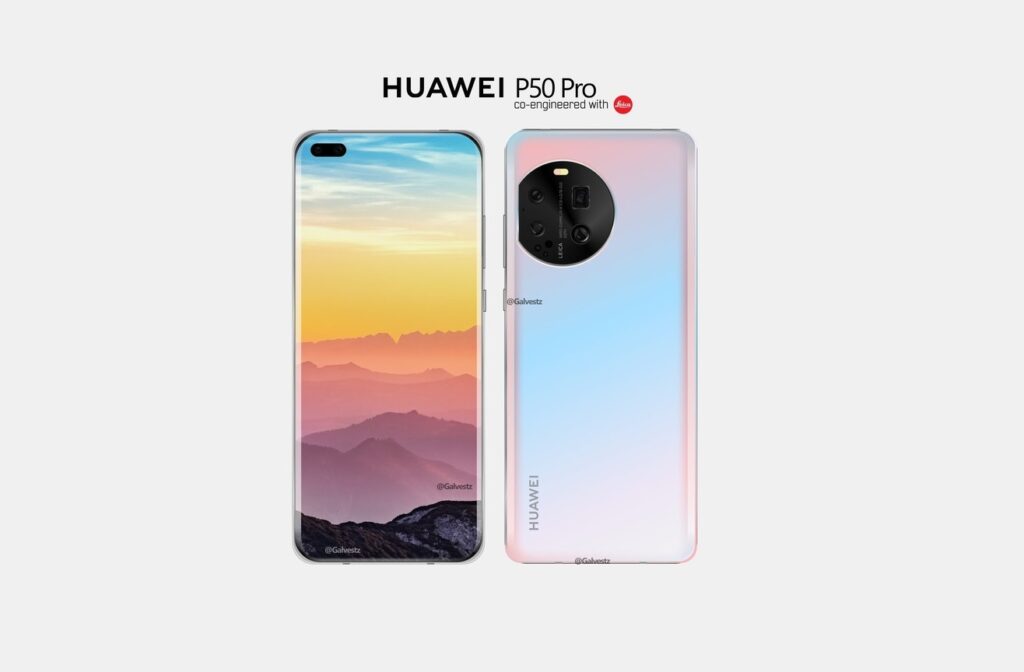 The back side is more interesting though, with an original shade of pink/blue and sporting a large camera module. It would be round, if it weren't interrupted by the side of the phone. We see 3 regular lenses and a periscope camera too, probably with 10x optical zoom this time. At first sight, the camera doesn't see to protrude as much as before. We've heard that the device is going to sport the same Kirin 9000 CPU used on the Mate 40 Pro and the Huawei P50 Pro is expected to debut in the first months of 2021.
I'm guessing that February or March would be the ideal time frame. Samsung and LG will supply the Huawei P50 displays and one thing I REALLY want on this phone is that it gets rid of the vibration speaker instead of the earpiece and it should also give us a stereo set of speakers, not just one, like the P30 Pro and P40 Pro. 12 GB of RAM would also be nice and a larger battery. Wouldn't be surprised if a P50 Pro+ has a ceramic back again. Honestly I don't think the camera design of the Huawei P50 Pro shown here will stick.