(5 votes, average: 5.00 out of 5)

We're not sure if the LG Traveler concept phone took part in the LG Design the Future Competition, or if it won, but it sure is a winner in my book. Created by Andrew Zheng, the handset is a thin slider with a touchscreen on board and a physical button keypad.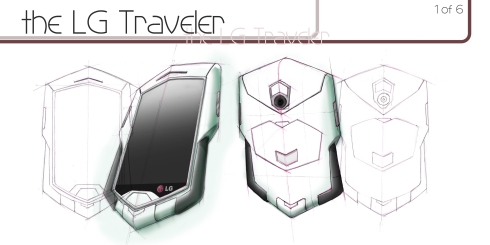 The unusual shape of the LG Traveler phone was created for better grip and this aspect gets enhanced also thanks to rubbers grips on the side. What's neat is that the concept integrates a portable USB flash drive, for better connectivity and easier handling of content and transferring from PC to phone and viceversa.
Traveler comes with a Bluetooth Instant Media Share feature, that allows the users with the same model to quickly exchange info and there's even a "ready to go" folder, always about to be sent to the person you connect to via Bluetooth. Picture cropping is also supported on the device, thanks to the touchscreen technology and there's even a GPS hotspot application included.
The GPS hotspot app allows one to save and pinpoint his or her favorite places, from a picnic spot, to the place you parked your car or the area you lost your dog. LG Traveler includes a simple top LED caller display, making the visualisation of the caller or time easier, when the phone is in your pocket.
At the back of the handset there's a 5 megapixel camera with flash and I really have to say that I'm impressed with this concept, perhaps even more than this other LG phone design. What do you say?
[Thanks Andrew Zheng]