(9 votes, average: 4.00 out of 5)

Who hasn't heard about Bugatti? The French maker of one of the world's most desired cars expanded to making other products, like Ferrari did, including clothes and accessories, but never handsets. Well, at least we have inspired designers to take on this task. Mladen Milic is one of them and he envisioned the following Bugatti Chronos smartphone concept.
The result feels like a combo of the ASUS gaming phone created by the same designer and maybe the LG G4 and G3. The back side of the phone has a variety of textures, including wood, metal and the works, reminding me of Motorola's custom backs. This model also has a bit of OnePlus vibe, but I can't exactly pinpoint where it comes from.
Anyway, know that it brings a Quad HD 2.5D front panel with a 5.5 inch diagonal and a main 23 megapixel camera plus a 16 megapixel selfie shooter. There's 64 GB of storage, 4 GB of RAM and a 4020 mAh battery on board. This is a waterproof phone, with a fingerprint scanner, wireless charging and USB Type C port. The back side, especially the portion below the camera is shaped like the front side of a Bugatti car.
That's one fancy and probably expensive (if ever real) phone!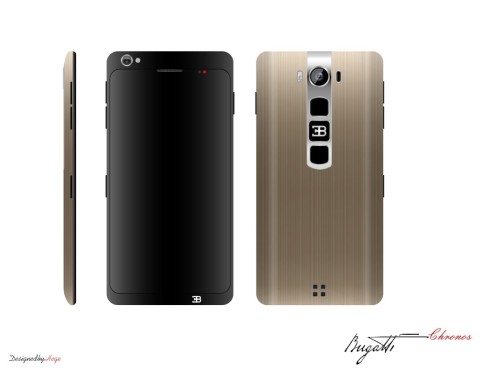 [via Mladen Milic]