(2 votes, average: 4.00 out of 5)

Modularity is sadly fading off into irrelevancy, with Project Ara sounding more and more like fantasy and not many companies exploring such projects. Today we've come across the Xcel 1M concept phone, a modular device, that's as simple as it is doable.
Created by Isaiah Bragg, the device has 3 simple slots that allow it to get external device connections. It works with a special custom ROM called Slide UI, that adapts to the modular pieces. The device is shown with a 4K display at some point, with sapphire crystal protection and adaptive light sensor. Inside there's an in house built 3.2 GHz processor, a battery with smart saving features and 3100 mAh capacity.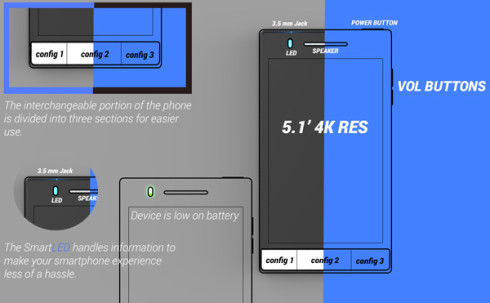 The battery can be replaced with other units and specs here include a 5 MP front shooter as well. The device looks pretty slim and from what I can see, its modular spots are placed at the bottom of the device. I'm guessing you can insert more storage, another camera, extra battery and another CPU. The screen resolution can be changed via upscaling or downscaling.
[via Yanko Design]