(10 votes, average: 4.00 out of 5)

The folks of Curved Labs never cease to amaze us with their concepts, including this new one, of a Nintendo Smartphone. This is the ultimate gaming handset, with sliding gaming control parts, a crisp screen and much more.
We have seen a Nintendo concept phone before and while that was great, this takes the idea of a Nintendo smartphone to new heights. The device has a 4.5 inch display with Gorilla Glass protection and it packs in all the required modern features: LTE, NFC, GPS and wireless charging. The handset measures 9 mm in thickness and it increases in size from 126 mm in length to 196 mm once the sliding gaming pads are open.
They open up at the push of a button and feature trademark Nintendo buttons from the old school joysticks and consoles (NES, Wii). 64 GB of storage are offered, as well as an 8 megapixel camera at the back and front 5 MP shooter. The OS is Android with Wii-UI, a customized version of the software, focused on Nintendo services. Games can be streamed to the smartphone from the Wii and Wii U and you can do independent gaming from those consoles too.
This is one sleek beast, that we NEED Nintendo to build. Please?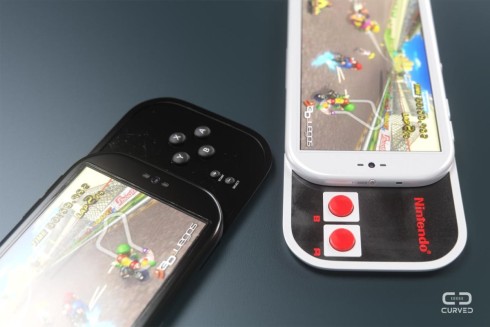 [via curved/labs]